HOLIDAY INN TOULOUSE AIRPORT
Your 4-star hotel in Toulouse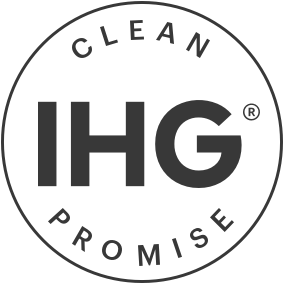 Dear friends and guests,
Our hotel, and our restaurant are currently closed. However, our team is already working on the reopening. In order to prepare your stay with serenity, and because your safety and your comfort come first, we will adapt our services, and our sales conditions have been updated to offer more flexibility. You may already book your stay at best available rate on our website.
Looking forward to welcoming you !
See you soon
Ideally located close to the Airport and major Companies of Toulouse Area, Holiday Inn Toulouse Airport is a choice destination for both Business and Leisure. Enjoy the cozy atmosphere of a recently redesigned Hotel.
Holiday Inn Toulouse Airport combines comfort and design. A haven of peace in a turbulent environment where you will enjoy the services of a hotel close to the airport with no inconvenience.
Upon your arrival at the airport, let yourself carried out by our Free Shuttle Service. Our Front Desk team will advise you on the best way to enjoy your stay. . The shuttle is at your disposal from 5:30 am till 11:30 pm on week days and from 6:00 am till 11:30 pm on weekends, and on demand.
The Black Angus Steakhouse, restaurant of the hotel, will be pleased to welcome you in a cozy atmosphere, and make you taste the creations of our Chef ; or simple choose a calm dinner in your hotel room thanks to our room-service.
Discover
our special offers
All of our offers are available for family vacations or trips with friends.
BEST AVAILABLE RATE
You may choose between our 4 room categories for your next stay at the hotel Holiday Inn Toulouse Airport.
LEARN MORE
For your next stay in Toulouse, the hotel Holiday Inn Toulouse Airport will host you in one of its 150 rooms.
Our team is willing to make its best efforts to make your stay a thrill.
Restaurant
For business dinners or just to enjoy a good meal with your friends and family, the restaurant Le Black Angus is open.
LEARN MORE
Must-be-seen near the hotel
Regularly, the hotel Holiday Inn Toulouse Airport gives you information on current events.
Find out more about our favorite events.
TRANSPORTATION
The Occitanie region by Octobus !
Cité de l'Espace
The 50th anniversary of the man's first step on the moon at the Cité de l'Espace in Toulouse!
Visit
La halle de la machine
Place de la révolution, Blagnac 31700 France
Check-in: 2pm // Check-out: 12pm
1.2
km
FROM TOULOUSE BLAGNAC AIRPORT
8.9
km
FROM DOWNTOWN TOULOUSE
19.6
km
FROM LA CITE DE L'ESPACE
Un accueil au top et un service !  Un service à l'écoute et aux petits soins... Une chambre niquel avec tous les éléments nécessaires... Un petit déjeuner continental en buffet et libre-service.... Une navette commandée et arrivée en temps et en heure.  Je recommande !
Was surprised to find, not only a clean, comfortable and cozy room, but also the details other hotels offer to any longer, like coffee machine in the rooms to prepare tees, coffees or chocolate, lime in the bathroom, and a very convenient present for the children. The swimming pool was cool , well decorated and very nice to have during our stay considering the temperatures. The hotel is well located if you need something next to the airport. They even have shuttle and bikes for rent. Of course WIFi is also free for guests.
Very clean and comfortable. Excellent breakfast with a good variety
Perfect hotel for an early morning flight back to the uk. We loved the pool and although the restaurant wasn't opened the bar food was perfect! we were put into an executive room which was fantastic as we were a family of 4. Would definitely stay there again!!